Cutting out a new project is pretty much the worst for me. I'm lazy and easily distracted (see also: the internet.) Last night
Devon
came over and we made dinner, but that lead to watching Beyonce's performance at the Super Bowl on youtube (she's pretty much a goddess, amirite?), which THEN led to watching old Destiny's Child music videos. 2001 was over 10 years ago but man, it feels like last week.
Moving on!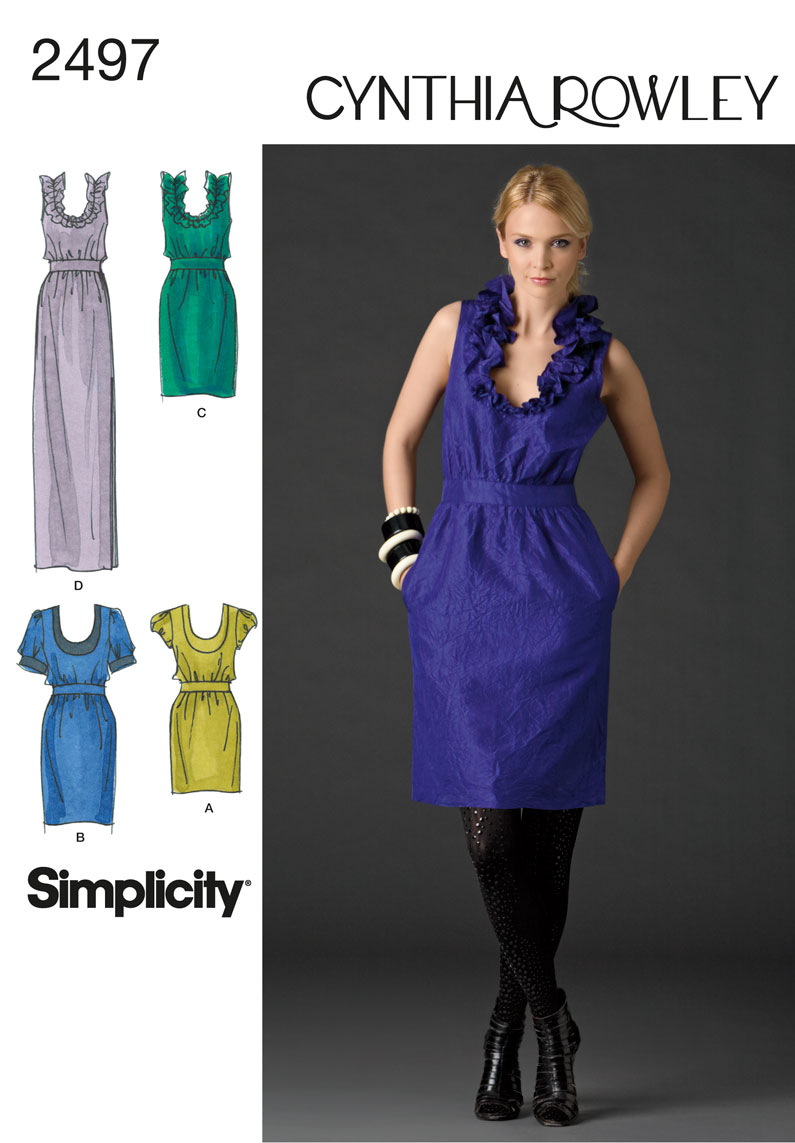 My latest project is the above Cynthia Rowley pattern, view C with the length of view A, saucy little thing that I am. I've had one hell of a time finding the motivation to cut it out. It's what, 5 pieces? What is my damage over picking up the rotary cutter and just doing it? I have no idea.
I've had the fabric for quite some time, purchased in November of 2011 from
fabric mart
. It's a charcoal grey cotton/poly diamond pattern. It's essentially perfect for this pattern and the color is the right shade.
This morning I finally cut out the final pieces, 2 duplicates of the waistband in interfacing to be fused to 2 of the waistbands. I cut a straight 4 on the bodice and a 6 for the waist and top of the skirt. We'll see how this clown car goes together.
This is what happened last week when I tried to cut out all the pieces.
Mistakes I've made while cutting: Laid the skirt on the wrong side of the fold (which I knew I was doing) and then forgot I had left it there, incidentally snipping the seam marker into the fold, instead of the outer edges. Tried to fix that with lightweight fusible interfacing (that was white) and THEN tried to color that in with a sharpie.... yes just hit me with a stack of books now. It was late and I was tired.
Cut out only two midriff/waistband pieces when it calls for four. Fine, I cut another set on the fold, but I've got the pattern piece backwards *AGAIN* so I snip the center of the pattern piece instead of the outer edges. AGAIN. I am hanging my head in shame at recounting this, I've been sewing long enough to know to pay attention.
Lastly, you see a photo of me above, with a maniacal look on my face, vacuuming up salt that's been poured on red wine that was poured (spilled) on my carpet. It was only a matter of time before we had to deal with a red wine stain on my carpet. Let's face it, Devon and my neighbor Geraldine and I all tried to count how many bottles of red wine have been consumed over the last two years on this white carpet. We are still tallying the results.
Sidenote: acceptable uses of chardonnay (the most disgusting of all white wines) include, but are not limited to: Chicken Apple Sausage, cleaning up red wine stains - but we didn't have any on hand, because who buys chardonnay?? - and cooking. Maybe.
So there you have it. Today's takeaway should include the following:
1. Beyonce is amazing.
2. Cutting pattern pieces is hard.
3. My friends and I like red wine.
4. Chardonnay has limited acceptable uses, drinking not being among them.
Good day.