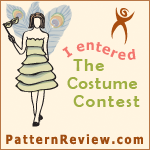 First things first. I intend to enter the Gumball Dress (GBD) into the costume contest on pattern review. I'm not super active on the site for a number of reasons, but
here is a link
to my profile.
Last night I cut out the remaining outer bodice pieces and sewed together the bodice lining .
I had a little trouble with the curves this time, so I used a TON of pins and while it felt counter-intuitive, I stitched over the small bits of puckering. Even prior to pressing, hand smoothing shows the seam will lay correctly, so the puckers aren't a big deal. I also cheated and didn't stay stitch. OH WELL!
Since this is the third time I've made this dress, and I really like the pattern, I had an idea. The bodice is made of four small pieces, midriff is two and the skirt is two. I photocopied the four bodice pieces for a couple of reasons:
1) I will be cutting out plastic and will NOT be using my rotary cutter or my fabric scissors.*
2) I've used this pattern a lot and the tissue is getting wonky. I am lazy and tracing is so much work.
One of the awesome parts about these pattern pieces being on paper, is that when it comes time to cut out the plastic, I plan on using double stick tape and my paper scissors. That's going to make this a lot easier. No pattern weights for me!
*A story.
Devon and her friend stopped by while I was working on a project. We were going to go watch the sunset on my roof, so they came into my apartment and waited while I arrived at a good stopping point. While I was tidying something, he reaches for my sewing scissors and starts playing with them. He picks up some fabric, some paper. At this moment, Devon and I see this happening and simultaneously raise our voices and reach for the scissors like hawks, saying, "THOSE AREN'T FOR PAPER."
He was slightly stunned and possibly embarrassed and immediately put the scissors down. We each trade stories about growing up and not using the sewing scissors for anything but fabric. EVER. Thanks, Mom!
It truly is a good habit to have. I come from a Gingher household, so I have several pairs in varying attributes I recently-ish bought a new pair of paper scissors, and picked up the nylon handled dressmaker shears. They are very light and super sharp, as you'd expect from a pair of Ginghers, and since they are black they really stand out from the rest of the scissors in the lineup.
Tonight's goals:
Get the plastic cut out, install boning on the lining and figure out how I'll be attaching the plastic layer to the outer fabric. I've been thinking I'd just place my felt gumball pieces and then lay the plastic over top, basting the outer fabric and plastic together and treating as one unit, much like you would do for underlining.